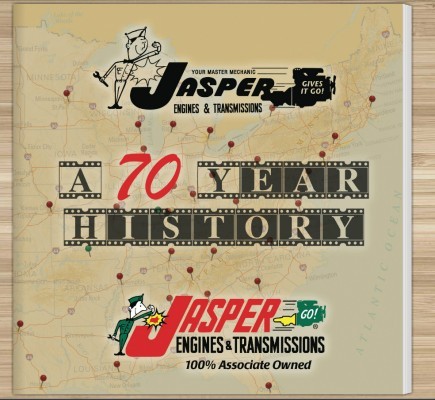 JASPER has a rich 70 Year History of providing Jasper Engines and Transmissions and growing their local communities. Through this book we will trace our growth from our founding in 1942 to where we are today. We sifted through our archives and spoke with a number of Associates who have been with us for 20, 30, even 40 years to bring you interesting photos and untold stories of our people, products and culture.
This book was designed with dueling time lines so you can watch how we grew here at Jasper and expanded our distribution throughout the country with the opening of branches and additional manufacturing and distribution locations. As you will see, JASPER is more than just a re manufacturer of gas engines and transmissions, we also offer diesel engines, marine products, crate motors, electric motors and much more. JASPER is a very diverse company, continuously expanding our product line to fulfill the needs of a changing industry.
Thank you for taking the time to page through our history. Our company is not only represented by our people and the great products they provide, but by tradition and the service our Associates have embraced from the very beginning.
We are proud to be a JASPER Owner Installer with such a rich history and to provide local businesses and families with professional automotive repairs and service for your car, truck, SUV, vans, or Fleet vehicles. If you have questions about your the engine, transmission, drive train, or service for your vehicle, stop by the shop and talk with our team of automotive repair technicians.