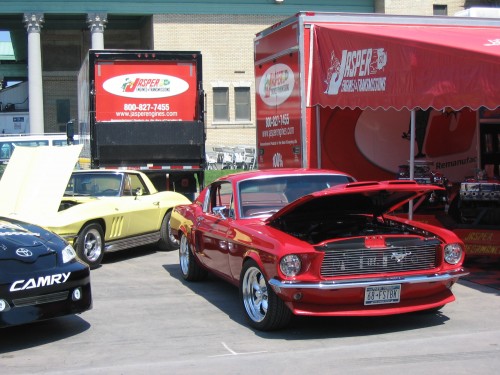 Picture taken at the 2010 Syracuse Nationals. My, how time flies. I came across this image this morning as I was browsing through our graphics archive. Back in 2010, I had the opportunity to transport our Rolling Showcase and represent JASPER at the Syracuse Nationals, which spans across the New York State Fairgrounds annually. I can't believe that was five years ago. I'm not sure if our concept of time is perceived at an accelerated rate as we age, or if it's just the fact that new technology promotes shortened attention spans compounded by our heightened ability to multitask.
Well, as the story goes, I met some really nice people in upstate New York that week including some of our customers, Dick and Carol Fracasse. That's their '68 Ford Mustang Fastback equipped with a JASPER remanufactured 347 stroker engine in the picture above. While it's true today's vehicles have a multitude of creature comforts, it's nice to see classic car enthusiasts restore these beautiful vintage muscle cars, as we are excited to be part of that continued history.
Our shop is committed to providing the best service and products. Talk to us about your special project car and see if we can assist in providing an authentic numbers-matching build or performance upgraded engine.