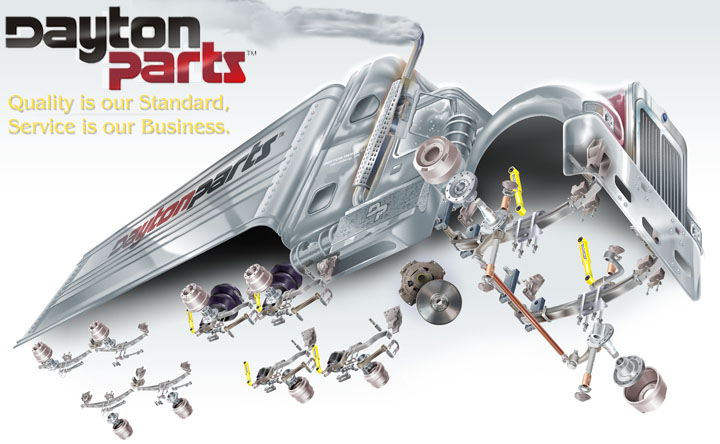 Dayton Parts complete product offering of brake, spring, steering, suspension, driveline and hitch & coupling product lines are unrivaled in content, quality and coverage supplying the most complete, single source product offering available in the market.
CLUTCH PRODUCTS
Dayton Parts clutch product line includes heavy-duty, medium-duty and light-duty clutches, offering;HD and dual-mass flywheels, Lipe push-type clutches, angle-ring clutches, OE light-duty SURE SHIFT™ clutch kits, solid flywheel conversion kits, flywheel housings, and foreign clutches. Components are supplied by OE approved suppliers. D&W® delivers over 90 years of clutch experience and unparalleled technical and troubleshooting support.

Goodyear® Gatorback Poly-V serpentine belts and tensioner assemblies are application-specific, torsion spring units that meet or exceed OE specifications. Poly-V premium serpentine belts feature quiet channel technology, greater wear resistance, and exceptional life. A full line of serpentine belts and hoses are also available.
SUSPENSION PRODUCTS
Dayton Parts operates as the leading Medium/Heavy Duty Suspension supplier to the independent aftermarket and our line has grown to be the most diverse in the industry. Dayton now manufactures and distributes suspension components for over 275 proprietary and OEM front, rear and auxiliary suspension models from over 50 manufacturers.

Dayton Parts, LLC is a master distributor for Hendrickson Truck, Trailer and Auxiliary, Reyco/Transpro, Hutch, Chalmers, Ridewell, Watson & Chalin, Holland Neway, Holland Binkley, Cambria, and Raydan suspensions. Dayton Parts is also a major distributor of Monroe® shock absorbers and Goodyear® air springs. Dayton Parts offers "the best service and highest quality", all at a fair price.
AIR BRAKE PRODUCTS
In 1997 Dayton Parts, LLC bought the Batco Co. based in Dallas, Texas. This acquisition not only bolstered our suspension parts coverage but also added a line of air brake and wheel attaching products. Batco was always an innovator in the heavy-duty parts industry. The first to have axle nut boards, to package brake parts as a "maintenance pak" (now referred to as "brake or cam kits") and to have a full line of grade 8 wheel studs.

Since the acquisition, we've expanded our air brake offering with trailer axles, Marathon new lined brake shoes & shoeboxes, air valves, auto slacks and our own line of HD brake drums. We will continue the process of adding parts for all of the new air disc brakes that are coming into the market.
STEERING PRODUCTS

Dayton Parts is one of the first heavy-duty aftermarket companies to offer a complete line of heavy-duty steering components. Their kingpin kits contains all the necessary parts for a complete rebuild. The tie rod ends and drag links are supplied from OE approved sources with some of the broadest coverage in the aftermarket. They also provide a full line of power steering pump seal kits.

Their light and medium-duty steering products range from the small ¼ ton pick-ups to the 2 ½ ton straight trucks and they carry a complete line of ball joints, pitman and idler arms, center links, tie rod ends, and kingpin kits.
Talk to our team today about getting your truck on the road with quality parts and services.