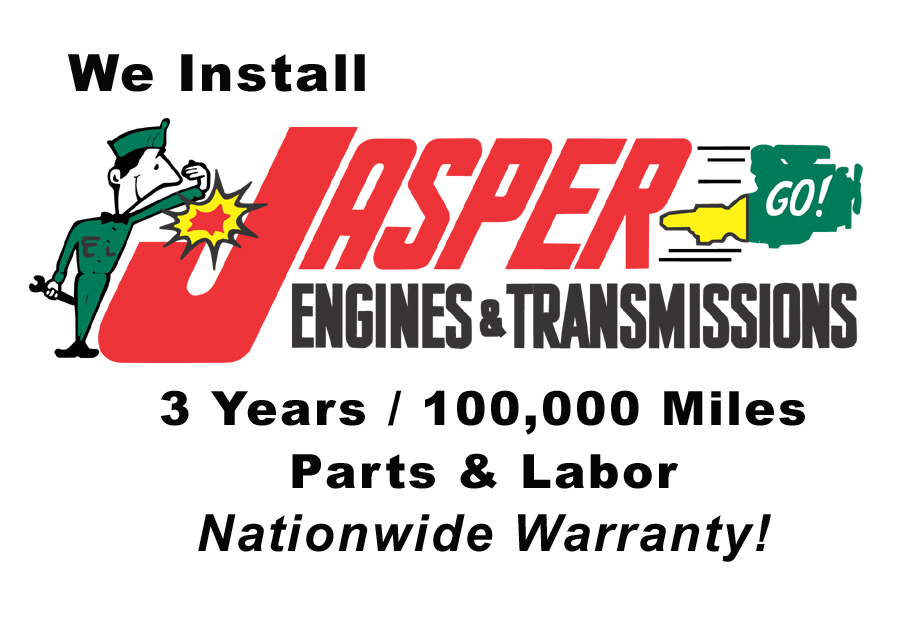 JASPER ENGINES AND TRANSMISSIONS has been the industry leader since 1942. With their extensive research, they have insight to correct problems in original manufacture design, improving their products performance, reliability and durability. We proudly recommend Jasper Engines & Transmissions remanufactured components and have worked dilligently to earn our Preferred Installer rating through top performances and awards in service and sales. Why we choose Jasper?
1. Live run, computer assisted testing of popular complete engines assure trouble-free performance and peace of mind for our automotive customers who depend on us.
2. Remanufacturing fuel components in a climate controlled environment and computer assisted calibration assures precise fuel delivery and efficiency.
3. Live run dynamometer testing of every running complete diesel allows engines to be tested under varying loads to simulate in-the-vehicle operation.
4. Live run dynamometer testing of every automatic transmission, including Allison, assure trouble-free performance and reliable day to day operation.
5. Distribution Center has an inventory of over 30,000 units. Additionally, there is daily delivery that can prevent costly down time, rental bills, and minimal disruption of your daily activities and commitments.
6. Jasper Engines and Transmissions has a 36 months/100,000 miles nationwide transferable warranty - parts and labor - for most consumer and commercial applications up to, and including 1 ton chassis.
TRUCK N SPRING IN MADISONVILLE is a certified JASPER Owner-Installer. Talk to us today so that we can help you make an informaed decision about replacing the engine, transmission, differential, or stern drive in truck.